Our coaches are devoted to understand who you are and what works for you.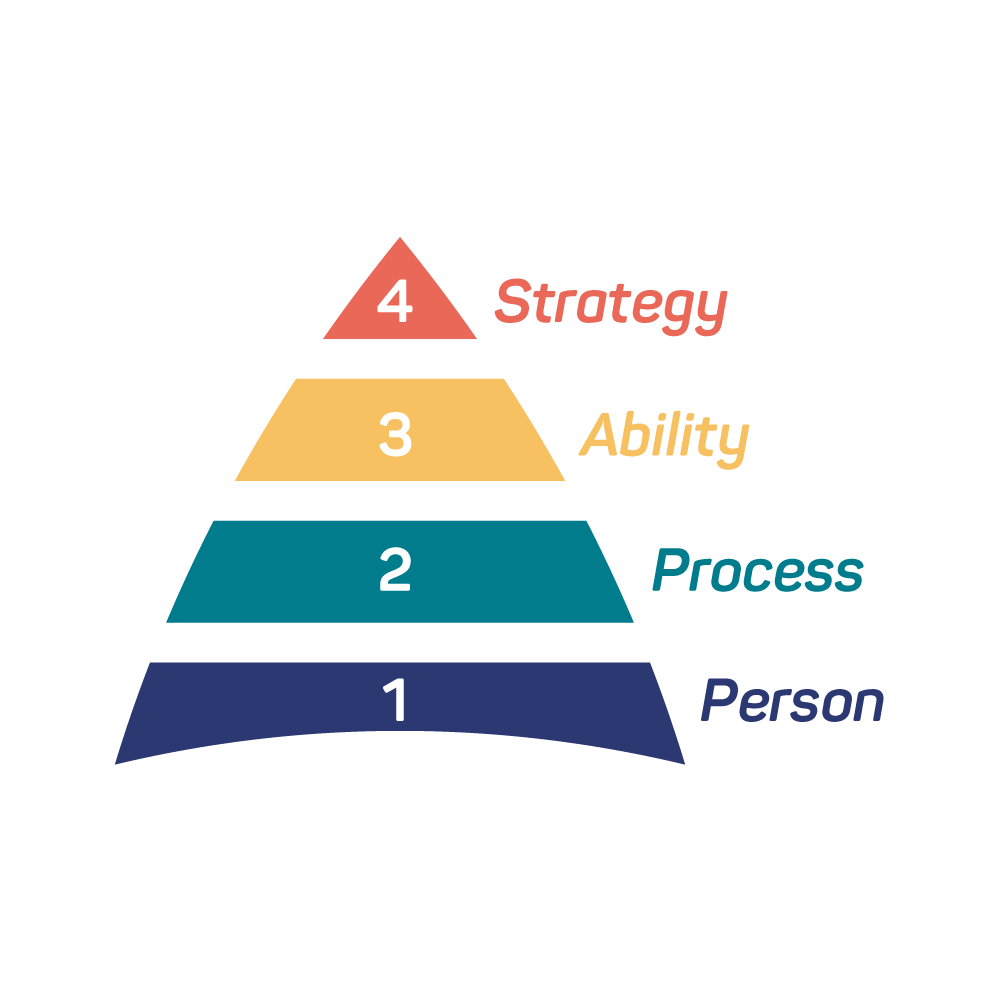 1. Person
We're not robots; we're humans. If it were as simple as just writing it down, everyone would be a champion. Committing to a process requires a unique set of character traits—things like grit, resilience, accountability, confidence, optimism, perseverance, humility, and passion. Without these traits, it's impossible to perform better which is why character is the first thing our coaches focus on: better people make better athletes.
2. Process
About defining the controllables that can make you a better performer, with a commitment bordering on obsession. The process isn't about championships or gold medals. It's about committing to the next actionable step as perfectly as possible.
3. Ability
Ability is your endurance, strength, stamina, flexibility, speed, power, accuracy, agility, balance, and coordination.
4. Strategy
it's how to pace, it's when to attack, it's when to take risks vs. when to play it safe.
CrossFit Level 3
(There are only two people in Belgium with this level of CrossFit)

Online Scaling course

Online Spot the flaw

CrossFit Competitor

CrossFit Endurance
"Today I will do what others won't, so tomorrow I can do what others can't" — Jerry Rice
more info
Adm_Alex
2020-09-15T19:30:25+02:00
CrossFit gave me new targets in life. I was a trainer for three years when I discovered CrossFit and even though I loved my job by getting people stronger and healthier, it was missing something. The fitness approach I used was easy in a way. Working out piece by piece, muscle by muscle was no fun. And of course you kinda miss few things as well. When I tried CrossFit for the first time I felt so alive (even though poorly) I have found again a sport that would give me excitement in order to go further. And now teaching it full time and seing so much results in people makes me think that there is nothing better to do to have a better life. That is why I wanted to become a coach and an affiliate, in order to get more people and better shape and try to share my passion with people.
As for my own exposure to Crossfit. I have never felt better in my life. It gives me structure in everything I do. It gives me more mental toughness too. Since I started Crossfit I look more like an athlete than ever before. (I have been long distance runner my entire childhood 🙂 and I have hurt my knees running that much. Well I was specialising ! And I started to pay for it few years ago when my knees would hurt, every day, all day. Since I do CrossFit…… GONE!
I wish to expose everyone to any of the true value of a multi compound approach sport like CrossFit as a main activity or complementary one.
We are all aging. Aging well is our decision to make.
more info
Adm_Alex
2020-09-15T19:30:01+02:00
J'ai toujours adoré le sport depuis petit. J'ai pratiqué des arts-martiaux pendant longtemps et j'ai fait de la gymnastique et du volley-ball en parascolaire durant mes secondaires. J'ai découvert le CrossFit par 2 collègues instructeurs de Krav Maga. J'ai tout de suite accroché par l'intensité et par la diversité qu'offrait le CrossFit.
Ce qui m'a le plus motivé c'est de voir qu'il y avait devant moi une progression et une évolution quasi infinie. De plus, la diversité des mouvements et des compétences qu'on apprend au CrossFit m'a permis de satisfaire mon côté un peu touche-à-tout et ma soif d'apprentissage. D'une part on apprend les bonnes postures à avoir lorsqu'on effectue des mouvements avec ou sans poids qui nous servira toute notre vie. D'autre part, on développe de nouvelles compétences qu'on aurait jamais pensé pouvoir faire avant d'avoir commencé le CrossFit.
Pour ceux qui aiment se dépasser, qui ont une grande soif d'apprentissage et qui veulent devenir une meilleure version d'eux-mêmes, essayer le CrossFit c'est l'adopter ! C'est une passion à laquelle on devient vite accroc !
"We are what we repeatedly do. Excellence, therefore, is not an act but a habit" — Will Durant.
more info
Adm_Alex
2020-09-15T19:40:05+02:00
Monday afternoon at 18:00 in the year 2015. That's when I decided to book my trial CrossFit class in a small box in Mexico City. Coming from a martial arts background when I was a kid and then transitioning into MMA and kickboxing with a couple of tournaments here and there, I thought I would just enjoy the class and then go back to doing martial arts. I had never been so naive. I signed up immediately after the class.
The reason for this was simple: the sky is the limit. There is not one aspect in CrossFit I found that you couldn't get better at. Everything in this sport can always be performed in a better way whereas we are talking about technique, weight, speed … you name it. And the best part of it all is that it requires zero talent, it's all about working hard.
After deciding a couple of years ago that I wanted to transmit my passion to get better at CrossFit by becoming a coach, I now realize that CrossFit can be easily extrapolated to life and ourselves. Therefore, my mission as a coach is to daily strive to be a better version of myself so that I can help the people I interact with become their best version.
I can't wait to meet you and to start making some progress together.
CrossFit Level 1
CrossFit Anatomy
"Everyday is an opportunity to become a better version of yourself".
more info
Adm_Alex
2020-10-21T09:09:06+02:00
I played basketball since I was a child. It was intense and the team spirit so much fun. I had to let go of the sport because of back injury.
After I moved to Brussels, my studies physiotherapy and psychomotricity tought me well about the body and it's motion. At that time I got a job in a regular fitness center and I was concentrating my fitness mostly on running. I was getting bored and looking for something else.
And then one day, I discovered CrossFit on YouTube. What a shock it was! Here was what I had been longing all the time. Precise movements, intensity and constantly varied. YES !
In 2016, I finale walked in a CrossFit Affiliate and I saw a group of people having fun during a class learning complex movements, all that mixed with some serious intensity. I was hooked. Sure to be in the right place, after few weeks of learning, I feel in love with CrossFit.
I always like to learn new things and to understand how things work. Through CrossFit I was learning how to get in a better shape (literally 😉 and to push further my health.
Today I am sure of one thing, I'll keep doing CrossFit until the end because it gives me all the chances to actually get further in life in many aspects.
I have already learned valuable lessons in this sport and it keeps getting better. I never thought I could accomplish so much, physically and mentally. I have better habits that developed naturally, I eat better, I don't feel my back injury anymore and I sleep better.
I look forward of to see myself in the next 10 years and see what is that guy will be capable off ? 😉
My goal in life is to help people to become healthier than the day before, to make them realize that they body is amazing and what it can do, in order to bring them all the chances to live a better, longer life.